The Summer Series is comprised of fun tournaments with unique formats. Each event is flighted with prizes awarded to top teams. Points are given to individual players based on their team finish per event so recruit wisely. At the end of the series, a Champion will be crowned!
REGISTRATION FORM
SCHEDULE OF EVENTS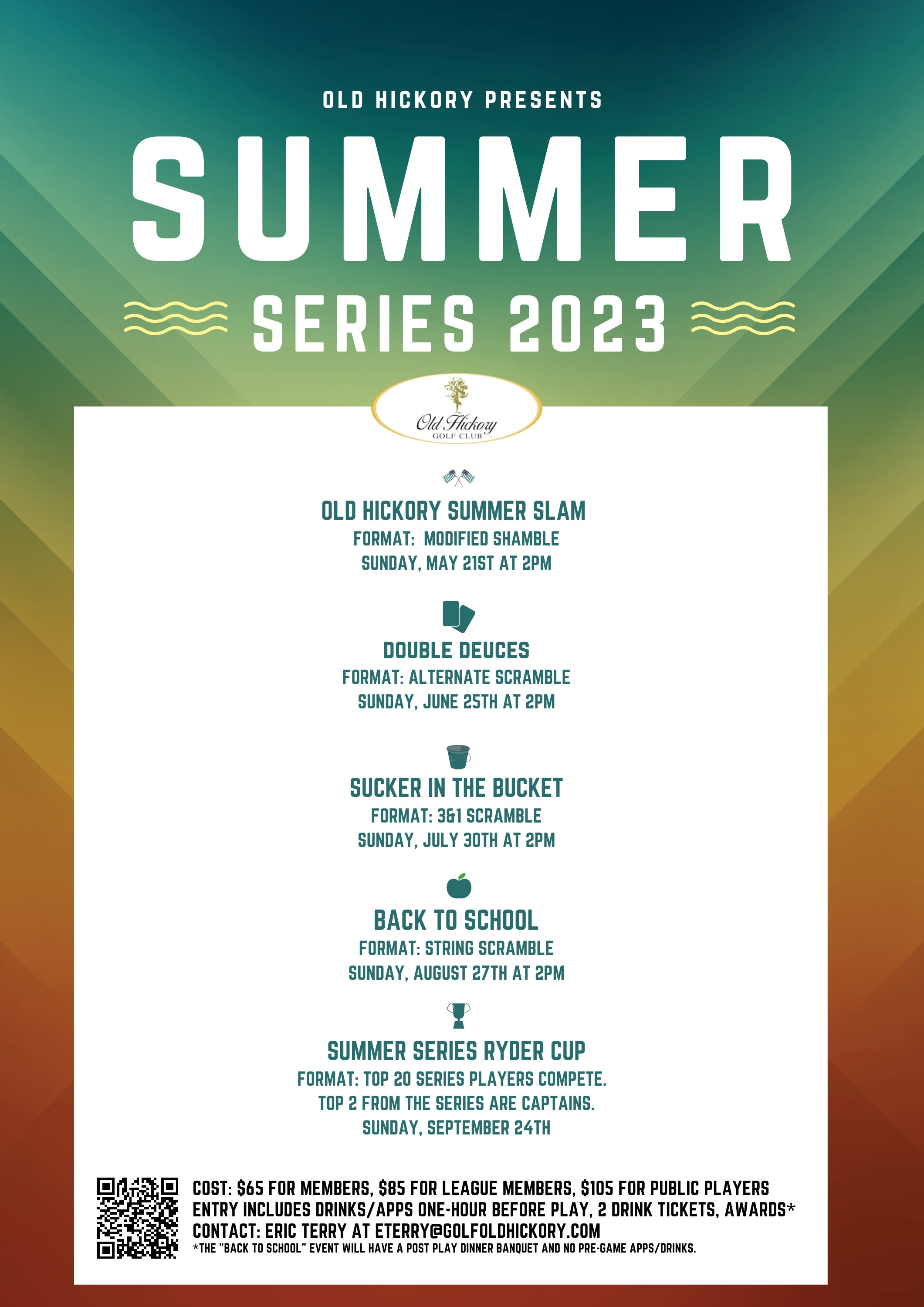 Old Hickory Summer Slam
Sunday, May 21st at 2pm
Format: Modified Shamble
Double Deuces
Sunday, June 25th at 2pm
Format: Alternate Scramble
Sucker in the Bucket
Sunday, July 30th at 2pm
Format: 3&1 Scramble
Back to School Scramble
Sunday, August 27th at 2pm
Format: String Scramble*
Summer Series Ryder Cup
Sunday, September 24th (time tbd)
Format: Top 20 series players compete
Top 2 from the series are Captains
Entry Fees: $65 for Members, $85 for League Members, $105 for public players
Entry includes drinks and apps one hour before play, 2 drink tickets during play and awards.
*The Back to School Scramble will have a post-play banquet in place of drinks/apps before play.
Points
1st Place - 10 points
2nd Place - 8 points
3rd Place - 6 points
4th Place - 4 points
5th Place - 2 points
Event Participation - 1 point
Contest winners (CTP & Long Drive) - 2 points
Frequent Player Bonus - 4 points earned for playing in 3 out of first 4 events
For more information, contact Eric Terry at eterry@golfoldhickory.com.